The fireplace and fireplace surround serve as the centerpiece of a room, both visually and socially. Family and friends inevitably gravitate to this soothing, flickering backdrop for conversation and mingling.
A beautiful concrete fireplace surround provides an eye-catching focal point. If properly designed, the fireplace surrounds can serve as a worthy substitute for any work of art.
The stone like look and feel of a concrete fireplace surround adds dimension and excitement to any living space. A wide range of style options from our contemporary range to the more traditional options, gives the homeowner an array of standard feature choices. Also, concrete offers the unique role as a strong mediator to bring out the best features in complementary materials such as stone, tile or metals; fusing them together in a dramatic marriage of texture and shape.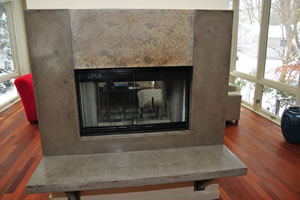 Because concrete is fireproof, it can be used for all or several of the fireplace surround components – the hearth, which sits on the floor, the mantel, which surrounds the fireplace, the mantel shelf and the over-mantel, which can be placed above the mantel shelf to add visual depth and interest.
Concrete fireplace surrounds Melbourne