Concrete surfaces age beautifully when properly cared for. Hard wearing concrete benchtops make an incredible impression while being very easy to live with. Concreate sinks and vanities can be a centre piece of any design or blend in with your other design elements.
The weight of our concrete products are similar to granite and marble
Our standard concrete benchtop thickness is 50mm which is double the thickness of other stone benchtops creating a real sense of mass and presence. All pieces can be thicker or thinner as necessary.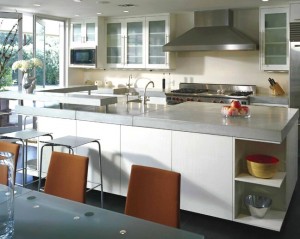 You can place hot items on our concrete benchtops, however it is recommended that you use mats or metal trivets which can be integrated into the benchtop in designated areas, these serve as both a functional and design feature.
Maintaining your concrete is easy. Concrete can be cleaned with non-abrasive, soap and water. We also recommend a spray polish and yearly waxing with made for concrete products which is an easy DIY task.
Your custom creation will take approximately 3 – 4 weeks from templating to installation.
Installation is usually completed in a day.
What is the Process?
Where possible our products are pre-cast in our studio where we control the environment enabling a higher quality product while remaining off the job site.
An initial visit to the jobsite is the first step to creating our products. We measure the design space and usually the cabinetmaker will leave a template or we can create one ourselves of the exact dimensions.
From there, we return to our studio to begin to form the molds in which the concrete will be poured. After the concrete has cured for 3-5 days in the mold, it is released for finishing.
We polish, seal, and wax our concrete benchtops to prepare it for delivery.
We use a penetrating sealer as well as a satin seal top coat providing maximum resistance to staining.
Average lead time for our products is 3-4 weeks depending on size, complexity, and scheduling demands.