Welcome to the new age of decorative concrete—a time when you may begin to encounter a concrete dining table, bench, bookcase, shelves or chair. At Benchmark we are continuing to design and develop unique one-of-a-kind pieces that bring a unique sense of style to homes and businesses, indoors and out.
For those of you new to or even sceptical about the concept of concrete furniture, take a look at why it's becoming so popular, it will hopefully dispel some misconceptions about concrete furniture, and the endless ways you can use concrete to blend with or complement any décor.
Concrete Tables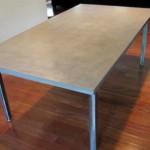 The versatility of concrete is truly expressed in the form of a concrete table top, whether it be your dining table, coffee table, lamp table, tv unit, desk, conference room table, virtually any surface in your home or office can be finished off with a concrete top.
Benchmark Concrete Benchtops can also have your wood or metal base fabricated for you and installed ready to use.